Source: HBR, Aug 2019
You've checked all the boxes. You've graduated from the right college, held the right internship, flourished in the right graduate program, and landed the right job at the right company. You've followed the path that everyone else told you would be the one to lead to success — to your dream job — only to find that your dream job doesn't feel so dreamy after all.
a 2015 study by Gallup showed that only one-third of the American workforce feels actively engaged in their work.
One-third of Americans over the age of fifty —nearly 34 million people — stated that they were seeking to fill their time with some professional (paid or unpaid) purpose beyond just the self.
What Makes a Good Job Good?
If you've determined that your dream job is not really all that dreamy, it may be that you have done all the right things along everyone else's path to everyone else's definition of success, only to realize when you've moved into a new age or life stage that the great life you built was meant for someone else.
Consonance is when what you do matches who you are (or who you want to be). You achieve consonance when your work has purpose and meaning for you.
The elements of consonance are calling, connection, contribution, and control:
Calling is a gravitational pull towards a goal larger than yourself — a business you want to build, a leader who inspires you, a societal ill you wish to remedy, a cause you wish to serve.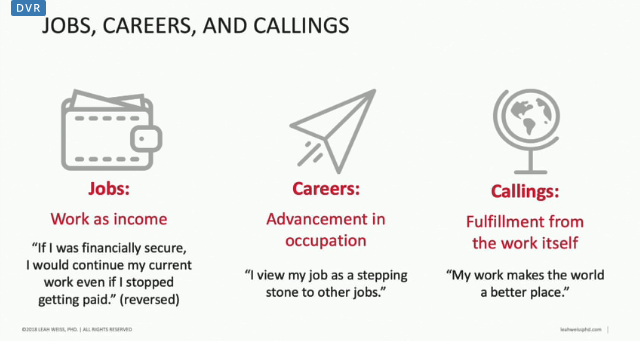 Connection gives you sightlines into how your everyday work serves that calling by solving the problem at hand, growing the company's bottom line, or reaching that goal.
Contribution means that you understand how this job, this brand, this paycheck contributes to the community to which you want to belong, the person you want to be, or the lifestyle you'd like to live.
Control reflects how you are able to influence your connection to that calling in order to have some say in the assignment of projects, deadlines, colleagues, and clients; to offer input into shared goals; and to do work that contributes to your career trajectory and earnings.