Source: UT Austin, Jun 2018
This paper investigates whether Tether, a digital currency pegged to U.S. dollars, influences Bitcoin and other cryptocurrency prices during the recent boom.
Using algorithms to analyze the blockchain data, we find that purchases with Tether are timed following market downturns and result in sizable increases in Bitcoin prices. Less than 1% of hours with such heavy Tether transactions are associated with 50% of the meteoric rise in Bitcoin and 64% of other top cryptocurrencies.
The flow clusters below round prices, induces asymmetric autocorrelations in Bitcoin, and suggests incomplete Tether backing before month-ends. These patterns cannot be explained by investor demand proxies but are most consistent with the supply-based hypothesis where Tether is used to provide price support and manipulate cryptocurrency prices.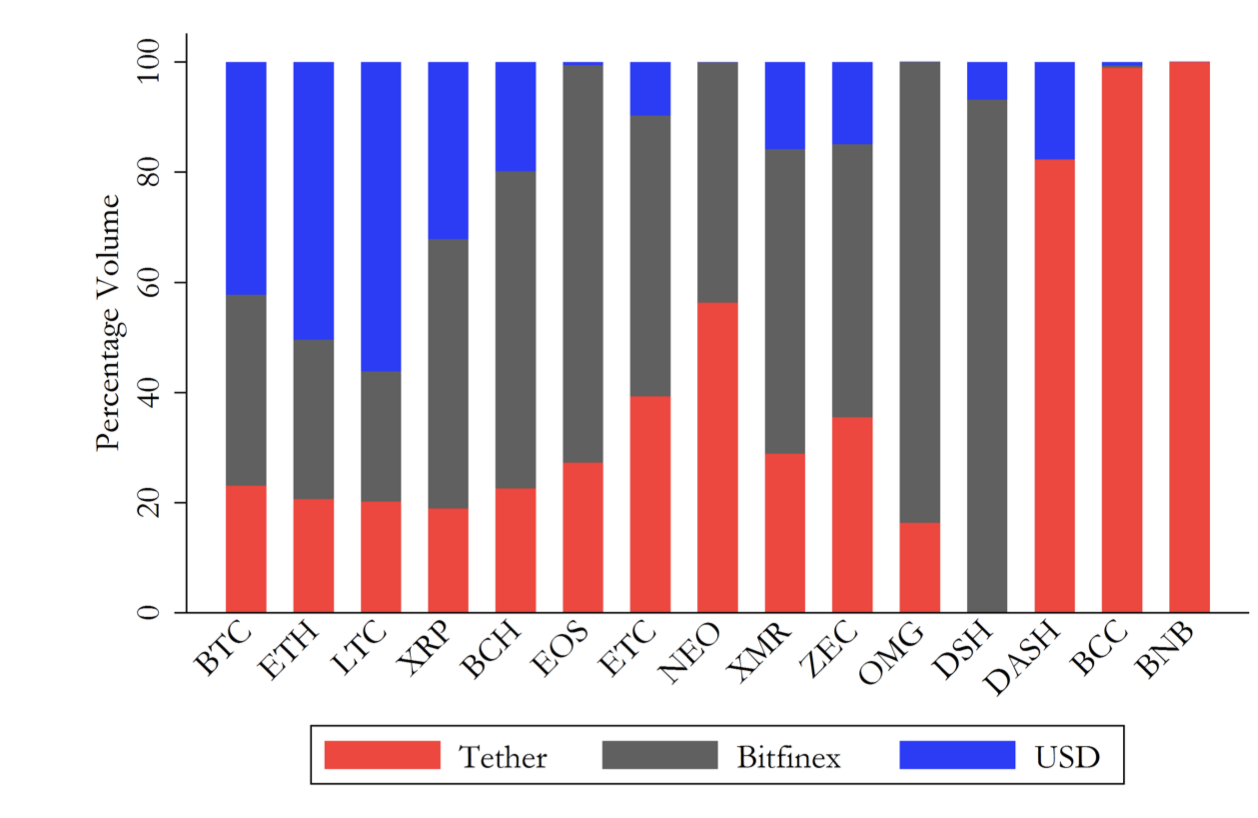 Related Reading: TrustNodes, Jun 2018
"From March 1, 2017 to March 31, 2018, the actual Bitcoin price rises from around $1190 to $7000 for a 488% return. In contrast, the price series without the 87 Tether-related hours ends at around $4100, a 245% rise.
Hence, the hours with the strongest lagged Tether flow, which account for less than 1% of the time-series, seem associated with 50% of the Bitcoin buy-and-hold return over the period," they say.
The study finds significant correlations between tether printing and bitcoin's price rise, with the authors arguing it applies more widely to other cryptos:
"The percentage of the buy-and-hold return that are attributable to the Tether-related hours range from 42% for Dash to 82% for Zcash.
Ethereum, for example, experienced near 2400% return during this period, while it would alternatively experience around 900% return if the Tether-related hours were excluded. Across the six other crypto currencies, returns are 64% smaller on average when removing the 87 Tether-related flow hours."
There has been suspicion for some time that Tether was propping up bitcoin's price with CFTC opening an investigation in January.  In March, however, they printed out 300 million USDT and in May printed out another 250 million.
Bloomberg, Jun 2018
Griffin's paper describes several patterns uncovered in a yearlong period. First it found that flows weren't symmetric. When Bitcoin's price fell, purchases with Tether tended to increase, helping to reverse the decline. But during times when Bitcoin rose, Griffin said he didn't see the reverse occur. That's "suggestive of Tether being used to protect Bitcoin prices during downturns," he wrote.
Price Thresholds
He zeroed in on 87 of the largest purchases of Bitcoin with Tether from March 2017 to March 2018. In the cases examined, new Tether had been issued within the prior three days, and Bitcoin's price had fallen in the prior hour. What followed were increases in Bitcoin's price — and those gains added up.
Even though the 87 examples account for less than 1 percent of the time period examined, they amounted to about 50 percent of Bitcoin's compounded return over that year. In comparison, 10,000 simulations Griffin and Shams ran demonstrated "that this behavior never occurs randomly," they wrote.
Griffin said one of the most notable trends he saw in the data was when Bitcoin traded near certain price thresholds, denominated in $500 increments.
Bitcoin purchases with Tether "strongly increase just below multiples of 500. This pattern is only present in periods following printing of Tether and not observed by other exchanges," he wrote in the paper. To other investors, it gives the impression of a "price floor," providing a signal for them to buy as well.