Source: Wired, Oct 2017
… fostering the emergence of human-level artificial intelligence on a decentralised, open-source platform
"SingularityNET's idea is to create a distributed AI platform on the [Ethereum] blockchain, with each blockchain node backing up an AI algorithm," Goertzel explains. AI researchers or developers would be able to make their AI products available to SingularityNET users, which would pay for services with network-specific crypto-tokens.
Initially, the plan is to have a system that provides visibility — and payment — to independent developers of AI programmes.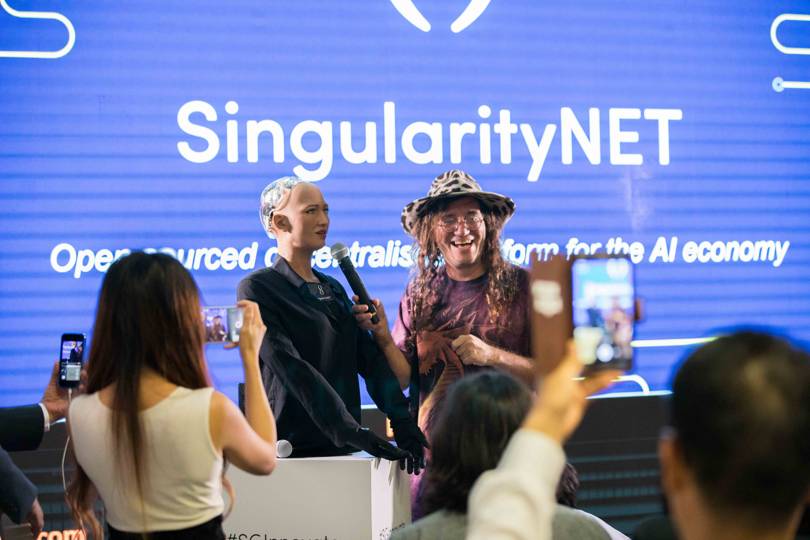 "We want create a system that learns on its own how to cobble together modules to carry out different functions. You'll see a sort of federation of AIs emerge from the spontaneous interaction among the nodes, without human guidance," he explains. "It'll have AI inside each and every nodes, and between them, and they'll learn how to combine their skills."
The expected endgame is that these swarms of smart nodes would get as intertwined as clusters of neurons, eventually evolving into human-level AI. Goertzel admits that it might take decades for that to happen, but he is positive that the primary purpose of the SingularityNET project is bringing about "beneficial Artificial General Intelligence" (that is: human-level AI).
SingularityNET will sell 50 percent of its whole token trove, distributing the other half to its staff and to a foundation that will reinvest them in charitable AI projects. Goertzel is optimistic about the sale, which he thinks could be appealing even to technology heavyweights.
"I have been working with Cisco, Huawei, and Intel, and I think we can pull in a lot of major customers who want to buy a lot of tokens to do AI analysis for their own purposes," he says. "In general, though, this ICO will allow us to start with a bang. We'll be competing with Google and Facebook…so having a war chest would allow us to take on them more easily."