Source: TritonStation, May 2020
The hallmark of science is predictive power. This is what distinguishes it from other forms of knowledge. The gold standard is a prediction that is made and published in advance of the experiment that tests it. This eliminates the ability to hedge: either we get it right in advance, or we don't.
The importance of such a prediction depends on how surprising it is.
Predicting that the sun will rise tomorrow is not exactly a bold prediction, is it? If instead we have a new idea that changes how we think about how the world works, and makes a prediction that is distinct from current wisdom, then that's very important. Judging how important a particular prediction may be is inevitably subjective.
A prominent example is the prediction of gravitational lensing by General Relativity. Einstein pointed out that his theory predicted twice the light-bending that Newtonian theory did. Eddington organized an expedition to measure this effect during a solar eclipse, and claimed to confirm Einstein's prediction within a few years of it having been made. This is reputed to have had a strong impact that led to widespread acceptance of the new theory. Some of that was undoubtedly due to Eddington's cheerleading: it does not suffice merely to make a successful prediction, that it has happened needs to become widely known.
Einstein provides another example of a silver-standard prediction. A long standing problem in planetary dynamics was the excess precession of the perihelion of Mercury. The orientation of the elliptical orbit of Mercury changes slowly, with the major axis of the ellipse pivoting by 574 arcseconds per century. That's a tiny rate of angular change, but we've been keeping very accurate records of where the planets are for a very long time, so it was well measured. Indeed, it was recognized early that precession would be cause by torques from other planets: it isn't just Mercury going around the sun; the rest of the solar system matters too. Planetary torques are responsible for most of the effect, but not all.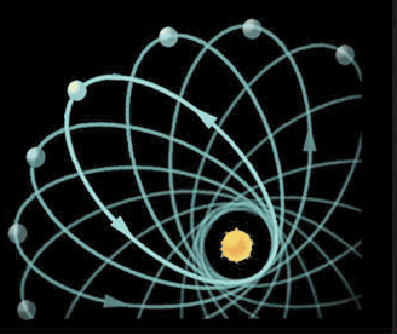 By 1859, Urbain Le Verrier had worked out that the torques from known planets should only amount to 532 arcseconds per century. [I am grossly oversimplifying some fascinating history. Go read up on it!] The point is that there was an excess, unexplained precession of 43 arcseconds per century. This discrepancy was known, known to be serious, and had no satisfactory explanation for many decades before Einstein came on the scene.
No way he could go back in time and make a prediction before he was born! But when he worked out the implications of his new theory for this problem, the right answer fell straight out. It explained an ancient and terrible problem without any sort of fiddling: it had to be so.
if a theory gets its predictions right in advance, then we are obliged to acknowledge the efficacy of that theory. The success of a priori predictions is the strongest possible sign that the successful theory is a step in the right direction. This is how we try to maintain objectivity in science: it is how we know when to suck it up and say "OK, my favorite theory got this wrong, but this other theory I don't like got its prediction exactly right. I need to re-think this."
Hence the hallmark of science is predictive power. Can a theory be applied to predict real phenomena? It doesn't matter whether the prediction is made in advance or not – with the giant caveat that "predictions" not be massaged to fit the facts. There is always a temptation to massage one's favorite theory – and obfuscate the extent to which one is doing so. Consequently, truly a priori prediction must necessarily remain the gold standard in science. The power to make such predictions is fundamental.