Source: Bloomberg, Nov 2019
A Texas academic created a stir last year by alleging that Bitcoin's astronomical surge in 2017 was probably triggered by manipulation. He's now doubling down with a striking new claim: a single market whale was likely behind the misconduct, seemingly with the power to move prices at will.
One entity on the cryptocurrency exchange Bitfinex appears capable of sending the price of Bitcoin higher when it falls below certain thresholds, according to University of Texas Professor John Griffin and Ohio State University's Amin Shams. Griffin and Shams, who have updated a paper they first published in 2018, say the transactions rely on Tether, a widely used digital token that is meant to hold its value at $1.
Griffin and Shams's hypothesis that Bitcoin was manipulated is based partly on the theory that new Tethers are created without the dollars to back them and then used to buy Bitcoin, leading to rising prices.
The authors examined Tether and Bitcoin transactions from March 1, 2017 to March 31, 2018, concluding that Bitcoin purchases on Bitfinex increased whenever Bitcoin's value fell by certain increments. Griffin and Shams didn't name the entity on Bitfinex that they think was responsible. They shared their updated research with Bloomberg News.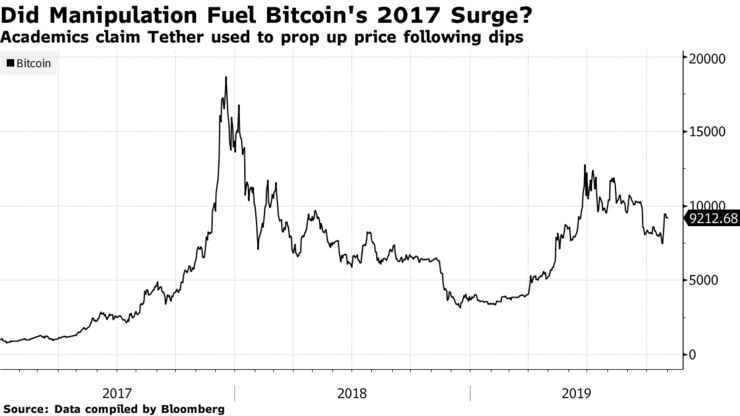 Related Resource:  Bitcoin.com, Nov 2019
Circle CEO Jeremy Allair labeled the WSJ's story on the matter "extremely weak reporting" and explained that "in 2017/2018 there was demand for buying BTC and a massive alt coin rally. The majority of that demand came from Asia and China, and since there were no CNY ramps into BTC, everyone went to offshore USDT processors. These processors would then generate large prints of USDT. The only thing this supposed analysis shows is that Asia traders demanded fiat to buy BTC."